New Cemetery DVD no 18 - 2020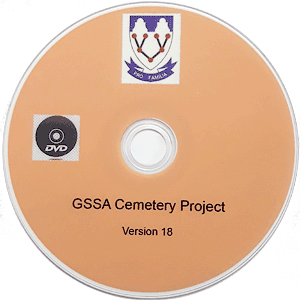 Published March 2020 the DVD can be purchased from the eGGSA web shop. Once there you can locate it under the tab Original Records.
Processing of submitted data continued during the year, with the information for DVD 18 (published March 2020) submitted for publication. This DVD contains 942,046 names from 3179 cemeteries, an increase of 7,126 names over DVD 17 (published March 2019). Although work on the new Web Winkel is proceeding, it was decided to publish the DVD as usual in 2020.
Recording work by our correspondents continues, and these submissions are greatly appreciated; without them, and the assistance from kind people who have done data processing work during the year, we would not make progress.
1. Work was concluded on the information related to the Alpine 44 Project (loss of six SAAF Liberator bombers in Italy during World War 2), with photos from the 6 crash sites being published by the eGSSA. Contact with the Alpine 44 Group continues.
2. Du Toitspan Cemetery, Kimberley: this has long been target of interest. The Cemetery is owned by the Du Toitspan Mine, but some records are kept by the Africana Library in Kimberley. Mrs James kindly made contact with the Mine, and we obtained an excel sheet showing the correspondence between headstone inscriptions from photographs, and the Burial Register. As such it is a very useful document. We continue to request the actual headstone photographs for the eGSSA.